Covered Line Wire - Aluminum Conductor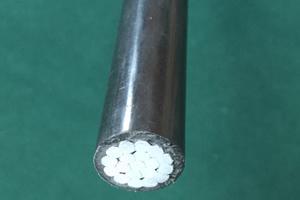 Applications
Covered line wire is used primarily for 600v secondary overhead power distribution lines. It is not an electrically insulated conductor and often considered a bare conductor.
Construction
The aluminum conductors are 1350-H19 aluminum, 6201-T81 Aluminum Alloy, or ACSR conductors, concentrically stranded and covered for weather proofing with polyethylene, high density polyethylene (HDPE) or cross-linked polyethylene(XLPE).
Standards
ASTM B-230 - Aluminum 1350-H19 Wire for Electrical Purposes
ASTM B-231 - Concentric-Lay-Stranded Aluminum Conductors, Coated-Steel Reinforced (ACSR).
ASTM B-1248 - Polyethylene Plastics Molding and Extrusion Materials.
ASTM C-8.35 - Specifications for Weather-Resistant Polyethylene-Covered Wire and Cable.
ICEAS-61-402
Code Name
Size
No. of wires
Insulation Thickness (mm)
Overall Diameter (mm)
Rated Strength (kg)
Nominal Weight (kg/km)
Allowable Ampacity + A
AWG or kcmil
Aluminum
LDPE
HDPE
XLPE
AAC
Plum
6
7
0.762
6.198
255
36.61
50.66
51.27
51.27
100
Apricot
4
7
0.762
7.239
400
58.19
75.57
76.33
76.33
135
Peach
2
7
1.143
9.703
612
92.56
126.09
127.55
127.55
180
Nectarine
1
7
1.143
11.481
789
116.67
167.31
169.52
169.52
210
Quince
1/0
7
1.524
12.395
903
147.48
203.7
206.14
206.14
240
Haw
1/0
19
1.524
12.522
980
147.48
204.49
206.96
206.96
240
Orange
2/0
7
1.524
14.834
1139
186.02
257.9
261.02
261.02
280
Ironwood
2/0
19
1.524
13.691
1211
186.02
250.41
253.21
253.21
280
Fig
3/0
7
1.524
16.307
1377
233.64
315.53
319.08
319.08
320
Lemon
3/0
19
1.524
14.986
1501
233.64
306.53
309.7
309.7
320
Olive
4/0
7
1.524
16.307
1728
296.14
378.04
381.58
381.58
370
Pomegranate
4/0
19
1.524
16.459
1823
296.14
379.09
382.69
382.69
370
Sassalras
250
19
1.524
17.628
2043
348.68
439.88
443.84
443.84
420
Mulberry
266.8
19
1.524
17.653
2182
372.19
463.59
467.55
467.55
430
Basswood
300
19
1.524
18.999
2404
419.66
520.91
525.3
525.3
478
Anona
336.4
19
1.524
19.964
2697
469.51
578.04
582.75
582.75
495
Chinquapin
350
19
1.524
20.269
2790
488.12
598.98
603.79
603.79
525
Molles
397.5
19
2.032
22.454
3123
555.08
707.29
713.88
713.88
550
Sumac
450
37
2.032
23.673
3719
628
791.79
798.89
798.89
600
Huckleberry
477
37
2.032
24.257
3810
665.21
834.63
841.98
841.98
610
ACSR
Walnut
6
6/1
0.762
6.553
540
36.64
69.94
71.43
71.43
105
Butternut
4
6/1
0.762
7.874
844
58.04
107.15
107.15
107.15
135
Hickory
4
7/1
0.762
8.052
1070
58.04
120.54
122.03
122.03
135
Pignut
2
6/1
1.143
10.312
1293
92.27
175.6
177.09
177.09
180
Beech
2
7/1
1.143
10.643
1651
92.27
199.41
199.41
199.41
180
Chestnut
1
6/1
1.143
11.303
1610
116.37
17.27
218.76
218.76
210
Almond
1/0
6/1
1.524
13.157
1987
146.73
282.75
284.24
284.24
235
Pecan
2/0
6/1
1.524
14.402
2404
184.98
348.23
349.72
349.72
290
Filbert
3/0
6/1
1.524
15.799
3003
233.34
430.08
433.05
433.05
305
Buckeye
4/0
6/1
1.524
17.348
3787
394.21
531.27
535.74
535.74
345
Hackberry
266.8
18/1
1.524
18.517
3121
372.63
525.32
528.3
528.3
356
AAAC
Maple
6
7
0.762
6.553
503
42.41
59.53
61.01
61.01
78
Hornbeam
4
7
0.762
7.874
798
67.56
89.29
90.78
90.78
145
Linden
2
7
1.143
10.312
1270
107.44
147.33
147.33
147.33
190
Oilnut
1/0
7
1.524
11.887
2023
170.99
238.11
247.03
247.03
250
Waterash
2/0
7
1.524
14.402
2445
215.63
291.68
302.01
302.01
290
Shellbark
3/0
7
1.524
15.799
3080
271.59
358.65
370.55
370.55
335